How to recognize the authentic KONIX products?
KONIX is working hard to make sure we provide high quality and reliable products with the best after-sales service for consumers, and that's why we don't authorize any distributor to sell our products. Recently, we have been told that there's many counterfeit products which have similar logos but are not sold by KONIX. We encourage you to buy authentic KONIX products. If you bought counterfeit products, we won't provide after-sale service or warranty for you.
KONIX's Official Brand Mark
Here is the official brand mark of KONIX, which stands for authentic products. There are many logos that look alike but still different in the market, please recognize the official logo which is registered by KONIX MUSIC CO.,LTD. in Taiwan. All rights reserved.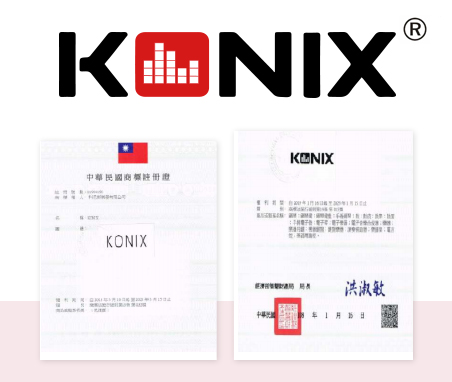 The product model has been released by KONIX is listed below: Electronic Piano: S400, S200, MidiStorm, S690, S6188
Handroll Piano: KONIX 49-KEY RAINBOW CHILDREN'S Handroll Drum: D600, HAND ROLL ELECTRONIC DRUM ROCK JAZZ EDITION Accessories: Piano stand, Piano chair, Mic stand, Music stand
Attention!
Known music dealers are selling inauthentic products which don't have registered brand marks.
KONIX strives to provide trustworthy products for consumers, we reserve all rights to take legal action against the sale of inauthentic products.